Deanna Sansbury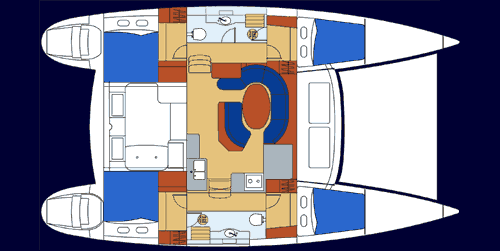 We attended a wedding this weekend and saw a bunch of friends that we haven't seen in a while.  It was wonderful, but it really made me realize how life seems to just get away from us. We get into our little routines and before you know it, the days turn into months that slip into years.  Just like that. I'm so glad that we decided to get out of our comfort zone and do something truly adventurous with our lives.  Even if we never leave the dock, we can look back at this time in our lives with a sly smile and think "oh boy, that was fun"! 
After getting them up to speed on what life on a boat was like, we realized that not many people know what a catamaran is.  They say a picture is worth a thousand words, so I grabbed some pics to do a virtual tour for the morbidly curious. 
Let's start with the basic boat layout:  Two hulls connected by a bridge where the salon (living area) and galley (kitchen) are located. Each hull contains 2 bedrooms (cabins) and a bathroom (head). Below is an overview for those who need to get their bearings. The only thing different on ours is the placement of the kitchen sink… ours is next to the stove instead of the slider door as shown.  We removed the additional seating (as indicated by the big red X) to open up the space a bit more to accommodate 2 humans and 2 dogs.  We lost some storage and additional seating, but the additional space was a game changer and has made life a lot easier for us.  And let's be honest, it's just the two of us 99.5% of the time, so we had no need to seat 8 anyway.
Here she is in all of her glory, in the beautiful crystal clear waters of the Caribbean.  (Photo from the listing!).  We'll be there soon enough. We're not loving the teal color, but we'll admit it does look better when surrounded with water of the same color. We'll use that as more incentive to get there sooner rather than later .
Funny thing about this boat, is that is bears an uncanny resemblance to a popular villain.  Hoping that the force will be with us as we set out on our first solo sail!
Next up is the main living area – living room / office / kitchen.  AKA the salon.  This is where we spend the majority of our time and the dogs spend 99% of their time, since it's nice and cool with the AC blasting. Yes, that's right – we have AC.  We're livin' it up in luxury up in here! We have a double sink, huge fridge, separate freezer, and stove/oven (although its way too hot to cook inside right now – everything is done on the grill!). It seems small, but it's cozy.  We love it. Eventually we'd love to replace all of the teal with a nice neutral color like gray or tan with pops of navy and orange.
View from the outside cockpit.  We spend a lot of time out there after the sun sets enjoying the awesome views.  Can't get much more waterfront than this!  We especially love how the slider opens completely up allowing for some great indoor/outdoor space. Since we removed that cabinet that sat immediately as you entered the door, it's opened up the space so much, allowing the dogs to roam about as they please.
We got asked a lot what the sleeping situation was like and where our clothes go.  We have 4 bedrooms (cabins) and 2 baths (heads) – 2 cabins and one head per hull.  In each cabin we have a storage locker that can serves as our closets, as well as large storage compartments under the two front (forward) cabins, where we store stuff we don't use everyday like winter clothes.  We also use these to store a bunch of random stuff that we brought from the house that we don't know what to do with, like office supplies and AV cables, etc.  We're probably going to forget they're there and throw them out when we eventually discover them again, but they're safe and tucked away for right now. Our bedroom is in one of the forward cabins.
We converted the two aft bedrooms into our "changing rooms".  We chose to put our sleeping area in the front of the boat vs the back of the boat because it was a pain to remove all of our bedding to access the engines.  By making these aft cabins our "dressing rooms" (aka where we store all of our clothes and personal stuff) we can easily access the engines if we need to, which is surprisingly, more often than you'd think.  I must admit (reluctantly) that Matt came up with the better storage solution.  I'm loving all of his individual bins instead of my 3-drawer towers that come apart when you lift them.  Epic fail.  And here I was supposed to be the queen of organization.
We also got a lot of questions regarding the bathroom situation.  Although we have two functioning heads on the boat, we decided not to use them.  Instead we use the marina facilities which are super nice and 1. don't require us to turn on the hot water heater for a decent shower in the morning, nor 2. fill up our holding tanks and cause the rest of the boat to stink like raw sewage.  Like we experienced after bringing her back from NC.  Lesson learned.  We still use them to get ready in the morning, just not to shower or use the toilets.
Right now we don't mind because it's nice and light out in the early morning and warm enough for us not to mind the short walk to the bath house.  We'll see if the routine switches up in the winter time  when it's pitch black and 40 degrees. Of course we'll use them when we're actually out sailing, but  if we're more than 3 miles offshore, it goes right into the ocean.  True story.  Something about a low parts per million.  Think about that next time you venture into ocean for a swim!
Outside we have a large trampoline area and lots of storage in two storage compartments that are only accessible via hatches.  One is a workshop area equipped with a bench, vice and electric and the other is for extra sails and rigging.  The pictures don't do them justice, but they're deep enough for a person to stand up in and move around.
The water tank and generator are located in storage cabinets in the front of the boat.  The water tank is about 100 gallons and lasts us for ever, I guess because we're not using the showers.  And the generator allows us to have all of the creature comforts of the dock – heat/AC, hot water heater, all electric not covered by the inverter – while at sea.  Yes, that's right.  It's like having a condo with sails.  Mama didn't raise no fool!
Well, that about wraps it up.  More on that electrical panel later…
Hope you all enjoyed the tour!